About the multifaith Movement
The Multi-faith Initiative to End Mass Incarceration (EMI) is focused on catalyzing a faith-rooted response to this issue in a way that adds value to existing work and furthers coherence in faith-rooted efforts. Our vision is for multifaith communities to exercise and amplify their calls and actions for eliminating mass incarceration in a dedicated, savvy, and impactful manner, at Ebenezer Baptist Church, Atlanta, GA.
Mission
The Multifaith Initiative to End Mass Incarceration (EMI) leverages the power of U.S. faith leaders and communities to emphatically demand and act for an end to mass incarceration on the local and national level.
Vision
EMI organizes an effective moral witness against the laws, policies, and policing practices that contribute to mass incarceration, drawing upon ancient traditions, moral vocabulary, and institutional strength to address the depth of this human rights catastrophe. We employ these strengths to seed an alternative system rooted in love, mercy, atonement, restoration, and transformation that promotes human thriving equitably for all.
Goals
We engage congregations and their leaders to educate their communities and move them towards actions that end mass incarceration. We offer models and training toward changing the narrative of incarceration, lifting up theologies of forgiveness, compassion, and justice. We lead faith communities in advocating for substantive change to public policy.
Dawn Freeman 
Lea Schweitz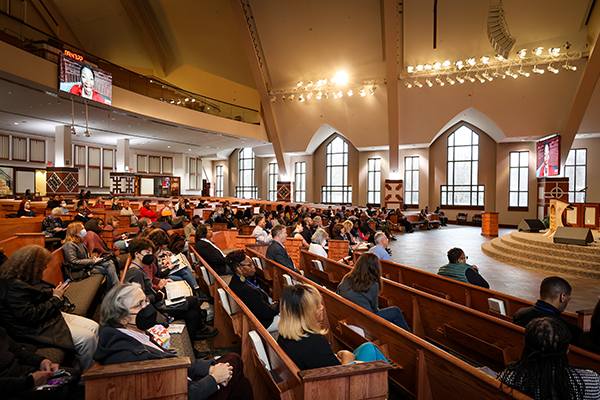 The Multifaith Movement to End Mass Incarceration (EMI) began with the Reverend Raphael Warnock, the Rev. Dr. Katherine Henderson and Rabbi Peter Berg sharing a vision to see faith communities collectively organize to stop the human rights catastrophe of mass incarceration.
With this vision as a guide, these faith leaders brought together the historic institutions they lead (Ebenezer Baptist Church, Auburn Theological Seminary and The Temple) to catalyze a national faith-based effort to end mass imprisonment.
The convening of this multifaith movement is focused upon the importance of leveraging the spiritual power, people power and resources of faith communities toward the effort to end mass incarceration.